Everyone want's the best chance possible when learning an instrument, a good teacher and some self disciple goes a long way but you should never underestimate the hinderance of a sub-standard instrument. Almost every player or teacher (without an an endorsement) if asked will tell you that Yamaha make by far the best student instruments on the market, and always have done.
Nobody knows student horns like a repairer and any repairer will tell you that Yamaha make some of the most resilient horns out there. Whether it's an old Japanese made model or a brand new Indonesian made one, all Yamaha products come under the same scrutiny during their rigorous quality control checks, this coupled with years of refined Japanese engineering and you've got a bomb proof instrument that will give you the best fighting change as you're getting off the ground.
"I don't know what it is about those Yamahas but it doesn't matter what you do to them….they still play?!" - John Pratt
If you're not familiar with the Yamaha student range here's a quick run down of some of their flagship instruments:
This used to be called the 275, and before that the 25, and before that the 23….etc etc. Speak to anyone who plays and they'll chew your ear off about how amazing they are. I know a few pro players who stayed on these horns well into their professional careers!
What Yamaha says:
"The YAS/YTS-280 saxophones offer a perfect start because they are designed with the young beginner in mind. Relatively light-weight and ergonomically shaped, they are easy to hold and to play. The intonation is perfect, as you would expect from Yamaha, and it is easy to get a great sound. The Yamaha design offers beginners optimum support, thus greatly assisting both learning progress and creativity.

Based on the highly recommended YAS/YTS-275 saxophones the new YAS/YTS-280 are even further enhanced with a new, more stable neck receiver and a new low B-C# connection for better adjustment."

At about three times the price of a Chinese student trumpet the 2330 is a substantial investment for any student, but you totally get what you pay for when it comes to tone, the 2330 will not only get you off the ground but keep you going well past grade 4 if need be.
What Yamaha says:
"The YTR-2330 trumpet is the perfect starter instrument for students. The main focus for the design was on a light and easy to play trumpet with a great sound and perfect intonation. Yamaha design instruments with an emphasis on the ergonomics so that they offer beginners optimum support thereby greatly assisting learning, progress and creativity.

To help create a lighter instrument, the YTR-2330 has been designed without a brace on the main tuning slide and benefits from the ideal thickness two-piece yellow brass bell. The monel alloy pistons are well known for their good, consistent action and minimise the need for maintenance."

This benchmark student flute has undergone some recent improvements since the 211 model including french pointed key arms. This model is so impressive in fact that a common move is to simply upgrade the head joint to a solid silver one when the time comes instead of a complete flute upgrade!
What Yamaha says:
"Our Custom and Professional grade flutes have earned a reputation for exceptional quality, design, performance and consistency, thanks to the craftsmanship of our brass and woodwind workshops.
Our Student models inherit many of the same hallmarks - but, to aid new flautists, our Student flutes are designed and shaped to encourage best-technique, as well as offering superb playability. For instance, we've designed the lip plate to guide beginners toward proper breath utilisation and keys with extensively tested dimensions and angles for optimum balance and easy playability. These and other details are some of the reasons why our Student flutes have become bestsellers worldwide.
The YFL-212 features covered keys, an offset G key and has a Split-E mechanism. This edition has a straight headjoint and standard silver-plated lip plate."

This clarinet has an impressively clear tone and typical rock solid Yamaha build quality. Historically the 255 and it's predecessors have been head to head with the Buffet B12 which has been discontinued to make way for the new 'Prodige' model. Is the 255 now unrivalled?
What Yamaha says:
"The new YCL-255 clarinets are the perfect start for young clarinet students. Made from durable ABS resin they are easy to handle and with the new adjustable thumb-rest and improved strap ring, they are now more comfortable to play.
By removing the metal ring from the bell we have made the instrument even lighter yet it still remains very robust.

Accurate intonation and immediate response help students to produce a round sound."

This has been the go-to student trombone since they came on the scene. A ubiquitous recommendation from teachers but also a popular choice for pro players wanting a cheaper backup bone.
What Yamaha says:
"Durable, with a great sound and easy to play, this trombone is ideal for new musicians.
Yamaha's Standard model tenor trombone features many of the qualities of our top pro models, yet is available at a surprisingly affordable price. The response is quick, the intonation accurate, and the sound both rich and full. The outer slide is made of nickel silver on European models, and is brass in other territories."
AND NOW FOR SOMETHING COMPLETLEY DIFFERENT....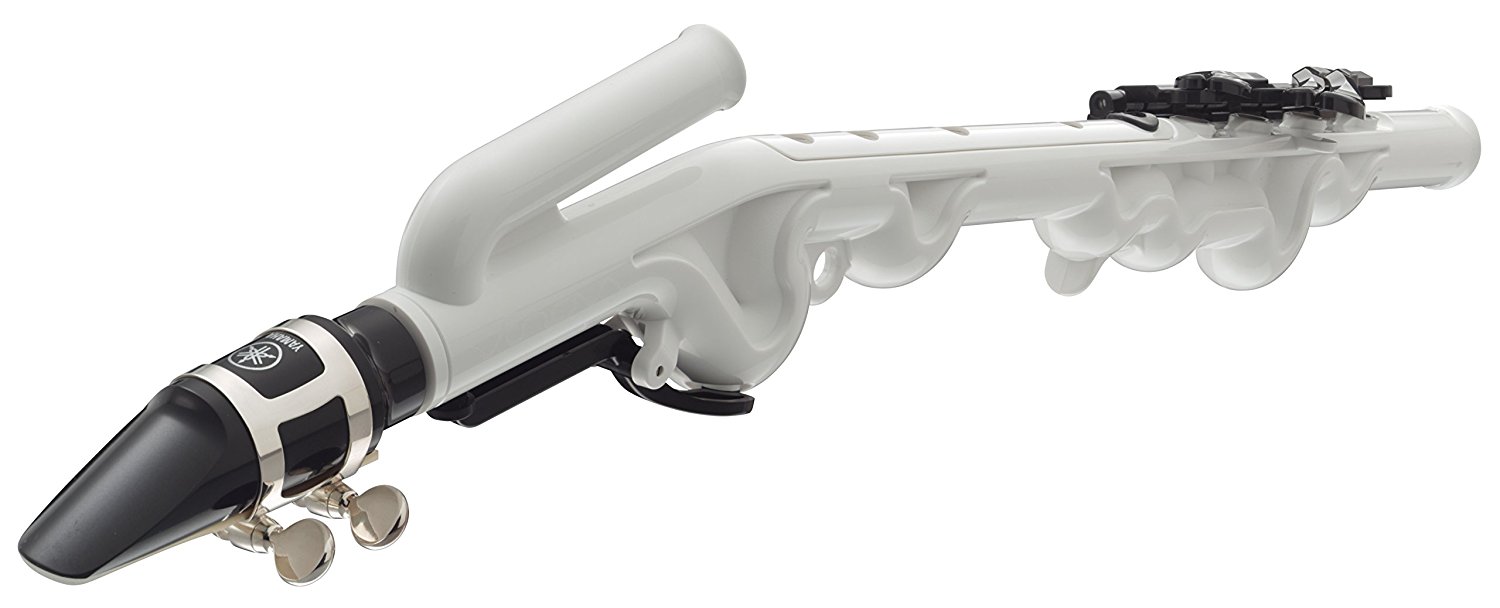 Every found yourself one horn short of a jazz band? or not getting quite enough attention as a family gathering. Well let me introduce the Yamaha Venova which is described as a 'casual wind instrument'. But don't let Yamaha's flatulent strap line put you off, this is a whole load of fun to mess around with and takes up about as much space in your suitcase as a Toblerone.