A small step for man, a GIANT leap for Jody Jazz
Jody Jazz GIANT
I first heard about this mouthpiece through watching an interview with George Garzone, who was raving about his set-up at the time which was a Jody Jazz GIANT with a 10* tip opening (yes you read that correctly) and a strength 4 Jazz select reed. But despite having half a clothes peg lashed on to a piece with double figure tip opening, Garzone seemed to have an effortlessly controlled tone across the entire range of the instrument, be it whispering a ballad or tearing through his trademark triadic chromatic approach at full volume. So I had to check out this mouthpiece, but of course in a more sensible facing! I tried a 7* and an 8*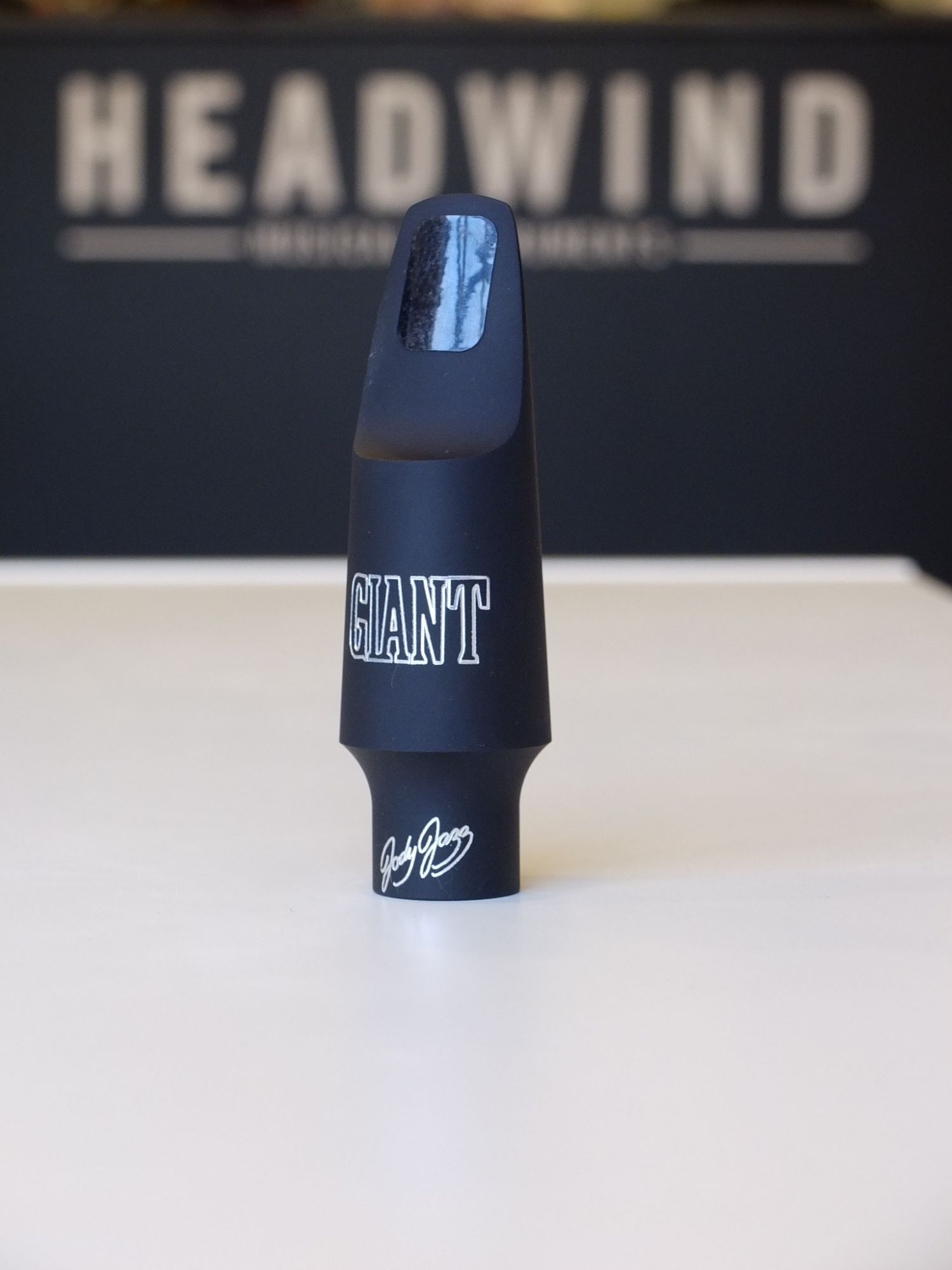 The first thing you'll notice with the giant is the weight when you pick it up, it weighs a ton! It looks like the same material as the hard rubber HR* series from Jody Jazz, but it's actually made from aerospace grade hard anodised aluminium or as they like to call it 'stealth metal'. I'm not completely sure of the sonic implications of using this type of material but my initial feeling was that there was an abundance of tonal variety available which was a lot more accessible than with other ebonite or metal mouthpieces where you have to work a bit harder to get them to respond contrary to their natural characteristics.
Another thing to mention is that the relatively large size of this mouthpiece encourages a more relaxed embouchure than a smaller traditional style metal piece would. So despite the inherent brightness of the material you find yourself counteracting that with a looser embouchure thus producing a suprisingly warm tone at low volume. So I guess the great thing about the GIANT (for players who are used to an ebonite piece) is that it gives you some qualities of a metal mouthpiece without having a detrimental impact on your embouchure because of its size.
From what I've read, the idea behind this mouthpiece was versatility, and to be fair they've pretty much nailed it. After a few minutes warming up on the GIANT I was getting some sizzling sub tones at the bottom end but it always felt like there was enough gas to get a bit more lairy up top, there was….and I did. If I was pushed to find a downside to this versatility it would be the constant temptation to put your foot on the accelerator, but it only takes a small amount of taste and restraint to keep a lid on it, and you've got buckets of that right?!
All joking aside, this is a monster piece that is probably as close to a 'do it all' mouthpiece as money can buy. Jody Jazz have tried to combine the best things about hard rubber and metal in one mouthpiece, and they've done a blinding job (once again). So if your playing life puts you in a diverse range of musical situations and and you don't want to mess about with your set-up all the time, this should definitely be on your list of things to try.
P.S. After a bit of experimenting, I seemed to favour a larger tip opening and a slightly softer reed that I usually go for (that could just be me) so bear that in mind if you every try it out. Maybe that's why Garzone plays a gaping 10*!
Click here to read a thread reagding this mouthpiece on cafesaxophone.com
For more information on the only saxophone specialist shop in Bristol click here
To browse our range of mouthpieces including the Jody Jazz Giant, come and visit our showroom at 19 Zetland Rd, Brisol, BS6 7AH or call us on 0117 907 0493