What's the Rulon removing your thumbhook?
When I first came across someone who preferred to remove their RH thumb hook and play with their thumb against the body of the horn, I thought they were a bit mad and it seemed to me to be like riding a bike without handlebars and a surefire way of producing a Selmer shaped puddle on the floor. So when Rulon Brown (inventor of KeyLeaves) reached out to us to introduce his latest product, a flat 'hook-less' thumb plate I was predictably underwhelmed, I was way more excited to check out their new palm key plugs that convert any horn into one suitable for small kids (Great idea, check them out here. Review coming soon!)
However, as with most occasions where I feel compelled to publish my thoughts surrounding a new product it was because the outcome was not what I expected and after trying them for a short period of time I was astounded, confused and craving some sort of cheese sandwich.
First of all let's think about why the thumb hook is there in the first place. Unfortunately Adolphe Sax himself isn't around to tell us for sure, but I believe the primary function of the thumb rest is to offer somewhere comfortable to put your thumb whilst you apply force onto the pearls with your other fingers. So why the hook? I get it with a clarinet where you don't (usually) have a neck strap so you need something to help take the weight of the instrument. But a clarinet is super light so your thumb can cope with the weight (about 800g). A tenor sax weighs about three or four times as much as a clarinet so poor thumbelina's gonna be feeling the strain a hell of a lot more if she actually tries to take the full weight, and that's why you have the neck strap right?! So if your strap is taking the weight vertically all your thumb needs to do is apply some pressure to compensate for your fingers the other side of the body butchering the great American songbook, and maybe offer some lateral guidance for your horn as you move about a bit.
But what's wrong with using your thumb a bit to take some weight of the sax? As it turns out…everything.
Here's a quick experiment: Sit at a table, slip your thumb under the edge so the inside of your knuckle (the bit that sits inside the thumb hook) is touching the underside of the table, now exert the amount of pressure you think you would need to lift a sax and with your other hand feel the muscle on the outside of your forearm where it meets your elbow (brachioradialis), you will feel the muscle firm, engaged, maybe even bulging like a young Rafael Nadal. Now switch it up and put the soft pad of thumb against the edge of the table and push away from you, notice how the same muscle is no longer engaged, it remains flaccid, like Neville Southall's side boob.
Now I'm no physio, and I obviously had to google the name of that muscle, but I did have a pretty nasty repetitive strain injury a few years ago as a result of playing too much sax which they call golfer's elbow (I've never golfed) which affects the tendons which attach the brachioradialis to the elbow as a result of overusing the aforementioned muscle. Hopefully now you understand the point of that little thumb experiment? Basically, you engage that muscle when you take weight vertically with the side of your thumb but it doesn't engage when you push away from your body onto a flat surface: cue the grungy entrance music and smoke machine as Rulon enter's center stage firing flat thumb plates out of a t-shirt gun.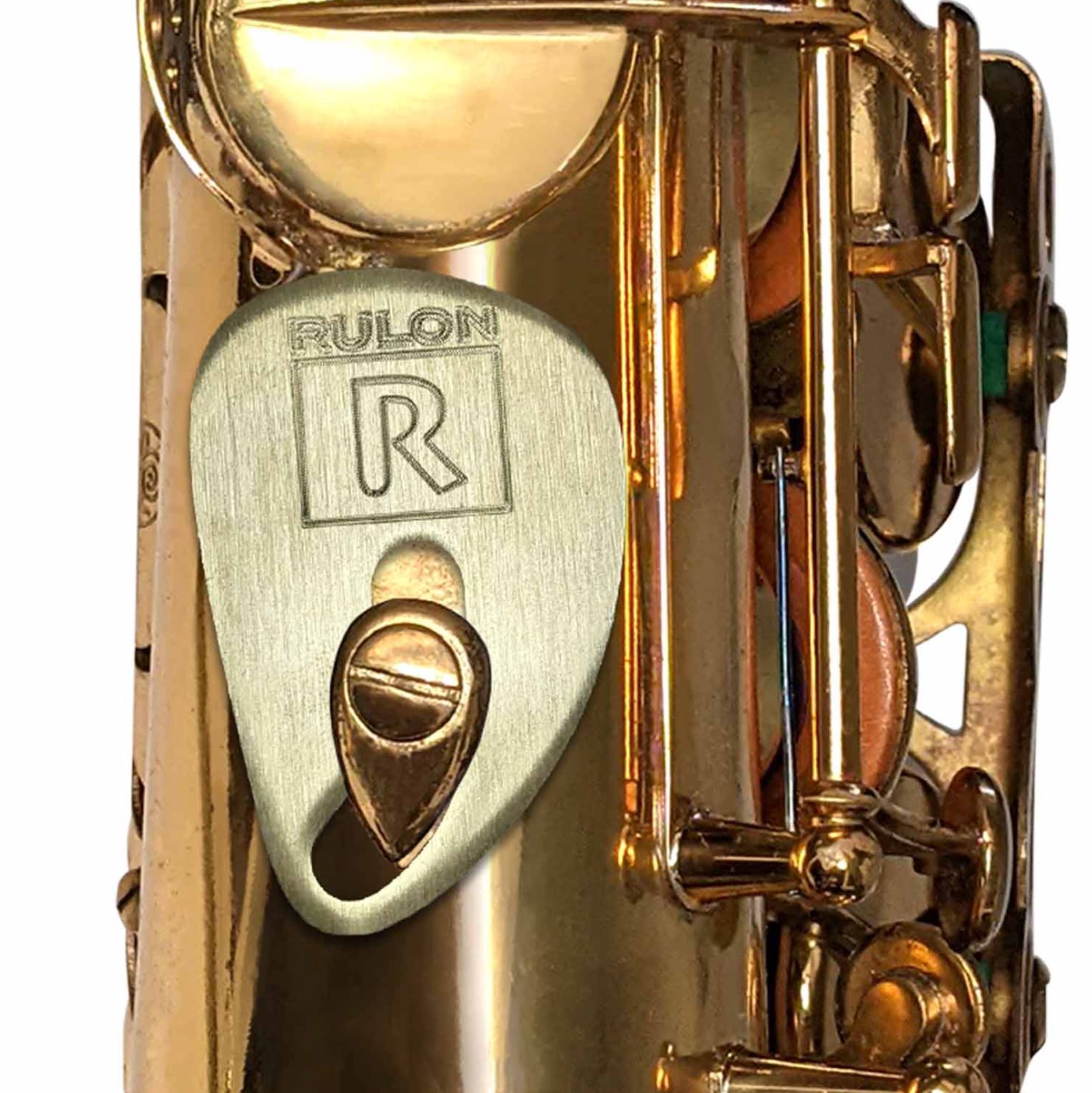 Meanwhile, back on planet earth. I've been testing the thumbplate for a week now and I can honestly say that I think it's fantastic, my forearm feels way more relaxed and I'm being forced to use my neck strap at the correct height at all times which actually stops me from lazily shifting to a more dropped embouchure from time to time that needs more micro adjustment as you go up and down the range of the instrument. So, overall my form is more relaxed and more consistent which feels like a win win.
The 'Rulon Sax Rest' comes in a variety of materials, the primary ones being plastic or raw brass. I tried them both, and despite the brass one looking a lot classier, I think I preferred the rough texture of the plastic one, but I've always preferred plastic thumb hooks to metal so maybe that's why. You can also get them in gold plated brass if the raw brass bothers you or in carbon fiber…if you want to go faster?
Anyway, mine is staying on my horn because I genuinely think it's made a real difference, and you can also take a punt on one here for only £15… less than 3 pints of beer!
Now, time to build me a blue cheese and marmalade bagel.