Boston Sax Shop reeds
If you own a saxophone and some internet there's a good chance you're aware of Boston Sax Shop. If not… clue's in the name, they're a sax shop, in Boston.
The owner Jack Finucane is not only a highly rated repairer & retailer but he also designs his own line of products under the BSS brand. I first bought a few of his straps for the shop and have exclusively used one myself since then, they're just dandy.
When sending us some straps one day Jack also sent us samples of his own branded reeds, which to be honest I couldn't fully appreciate because at the time I'd just fallen in love with a mouthpiece with a much larger tip opening than I was previously used to so had dropped down to super weak reeds (rico 2) to make the setup manageable, and Jack sent samples of strength 2.5 and 3 which were too hard for me at the time so I didn't spend too much time on them. A conversation with Jack concluded that he was getting these made by Rigotti in France who are known OEMs for the likes of Lupifaro and Roberto's Winds to name but a few.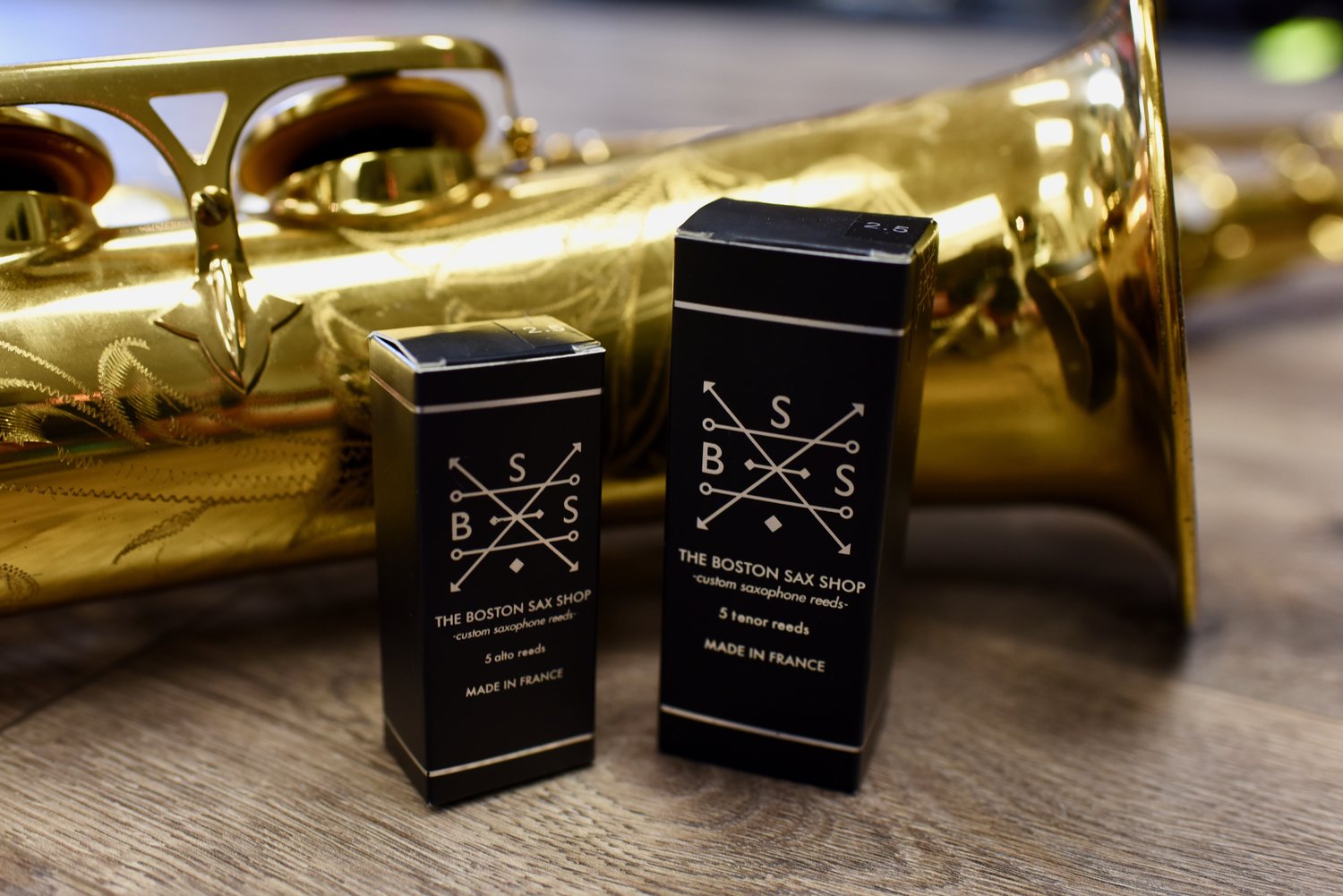 Fast forward a year or so and I'm back up to strength 2.5…… a soft 3 if I'm tanking it, Corona is no longer a beer and theres been some serious hype online about BSS reeds. So we place a modest order just to test the water over here. When they arrived I'm not sure which shocked me most, how well these reeds play or how quickly we sold out of them.
Obviously I had to check that I'd not just forgotten how good Rigotti reeds are, but as soon as you put them side by side you can see the tip profile is completely different. In fact, the BSS profile is flatter than basically any reed I've used before (I think). Ok Jack, wtf have you done?
So it turns out Jack had been nagging the guys at Rigotti to make him some OEM reeds for a while, specifically ones with a thicker tip. Eventually between cheese courses they found some time to send him some thick tip prototypes which by all accounts where disappointingly stuffy, not deliciously dark as Jack had intended.
Say "thick tip" 10 times as fast as you can
After a bit of discussion, some light snacking and a bottle of Languedoc-Roussillon's finest, Rigotti suggested flattening off the tip curve to add brightness to the reed without compromising it's tip thickness.
Say "tip thickness, thick tip's best" 5 times in a row
Ever the cynic, I was doubtful that the tip curve could have that much of an impact so I got a reed clipper with a traditional tip curve and ever so slightly clipped on of the 2.5s that was a touch too soft for me, and Voila! …. f***ng ruined, duller than Theresa May's tinder profile.
Something I've noticed with BSS reeds and I'm not the first person to mention this is somehow these reeds seem to last forever, maintaining their sonic integrity longer than other reeds (including Rigotti), maybe the thick tip doesn't 'blow out' as quickly? Maybe Jack's tip curve is the perfect balance between aerodynamics and karma making it perfect for modern jazz and beep-pop? Maybe he just sticks viagra in them? Who knows.
All I know is that within a few hours of listing them on our website we were sold out of all strength 2.5 and 3, leaving us with only a few 2 and 3.5 which sold over the next few days along with a load of pre-orders for when our next shipment lands. No wonder they've got so much hype with heavyweights like Lovano apparently emptying his reed drawer into the nearest bin then rolling on to his back shooting his gun in the air Point Break style.
If you want to pre-order some BSS tenor reeds, you can do so here: Alto / Tenor
Our next shipment should be with us in a week or so (beginning of May)
Ok, so what have we learnt today?
1.Boston Sax Shop reeds are really really really nice
2. Not everyone appreciates a 'Good Will Hunting' reference
3.You sounded like a right bell-end when you were saying 'thick tip'