Ed Pillinger - The man with the golden collar
Disclaimer: These aren't general witty musings on a broad musical topic, this is pretty specific mouthpiece geekery. If you don't find the subtle internal differences between a Babbit link and a new one at all interesting....I suggest you bail right now, in which case, here's some cat videos on Youtube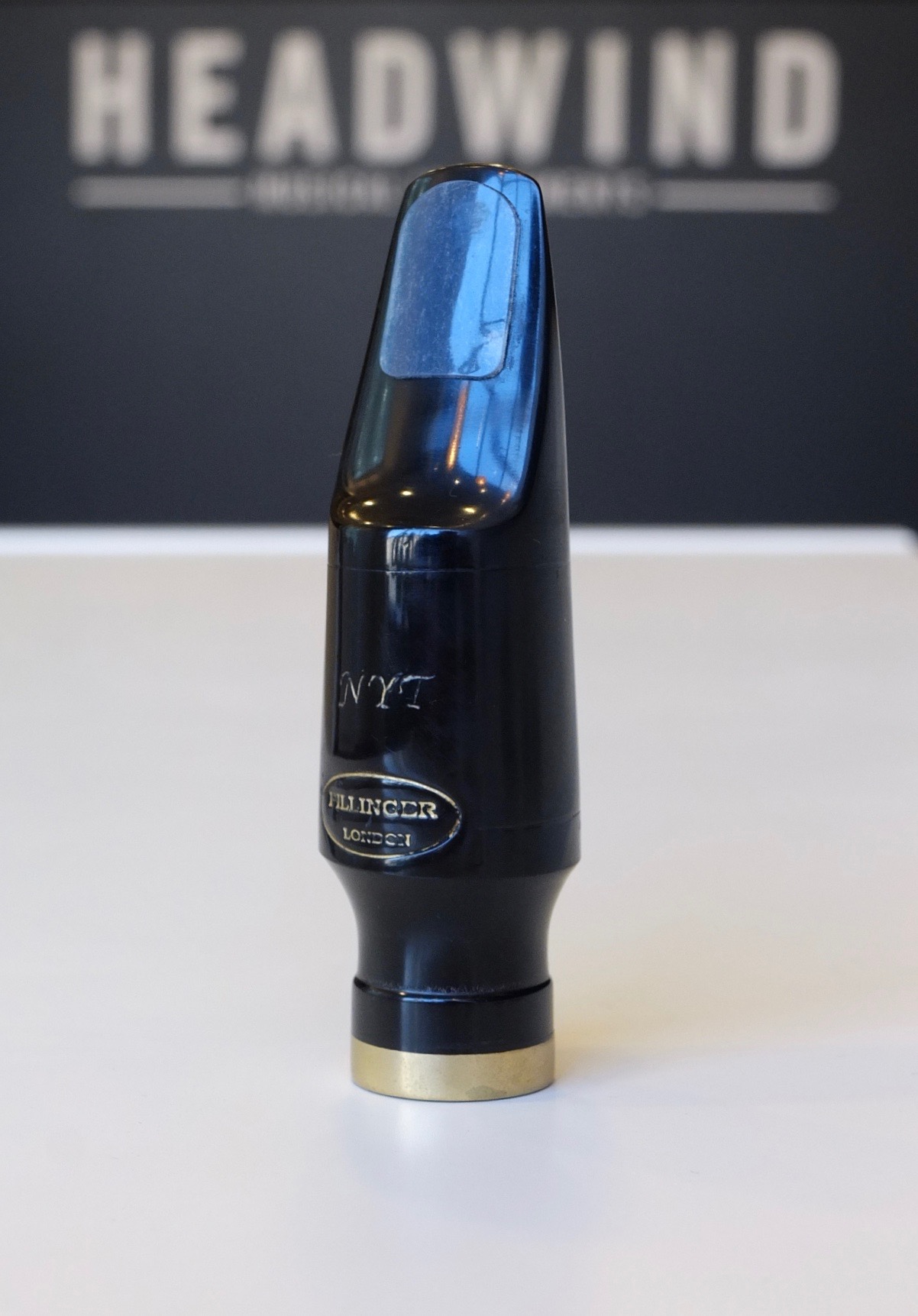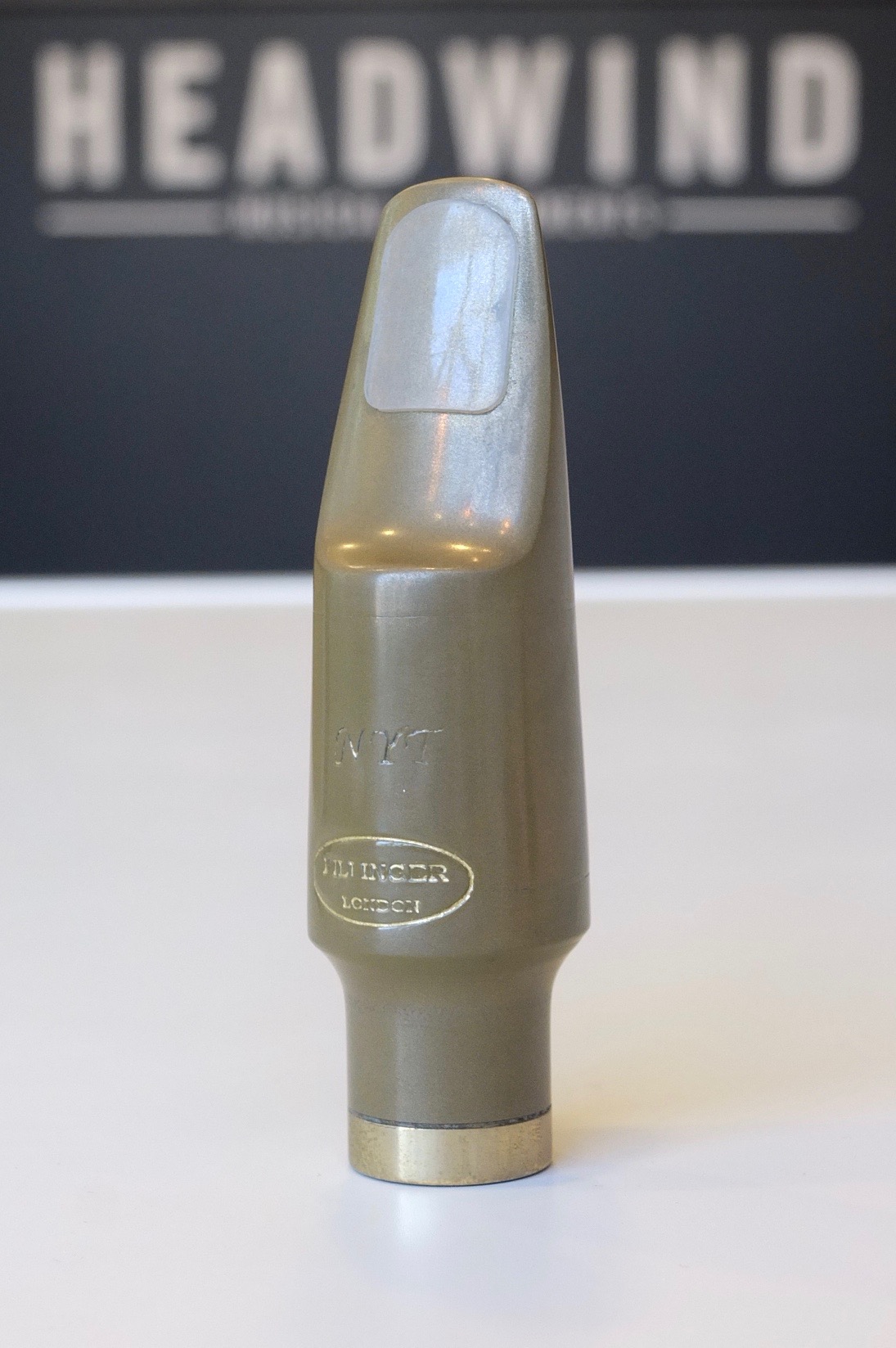 Before we'd opened our store, I'd already encountered some of Ed Pillinger's mouthpieces, but these were mainly refacing jobs, or copies of discontinued vintage pieces which he had been commissioned to re-produce. So when I found out that Ed has a whole line of his own stock pieces I was intrigued to see what they were like as I'd heard nothing but good things about his other work. If you've mingled with sax players for a while you may well have seen some of his mouthpieces, usually classic looking ebonite mouthpieces with a gold (raw brass) collar but sometimes in 'Bronzite' which Ed describes as "a special blend of synthetic hard rubber with a high bronze/brass/copper content" which gives the mouthpieces a quirky greeny-browny-gold colour.
If I remember correctly we initially ordered 3 alto pieces and 3 tenor pieces, one of which (7* LA) I instantly commandeered for myself! The rest didn't hang around either, in fact in our first couple of weeks trading I think we'd sold more of Ed's mouthpieces than we had saxophones!
Most of Ed's stock saxophone mouthpieces are loosely based on the classic mouthpiece designs from makers such as Otto Link, Berg Larsen, Meyer and Selmer, but each have undergone careful consideration and refinement by Ed so what you end up with are exceptional revised versions of classic mouthpiece chamber concepts, these inspired designs coupled with the skilled hand of a true master craftsman and you end up with an exceptional artisan saxophone mouthpiece.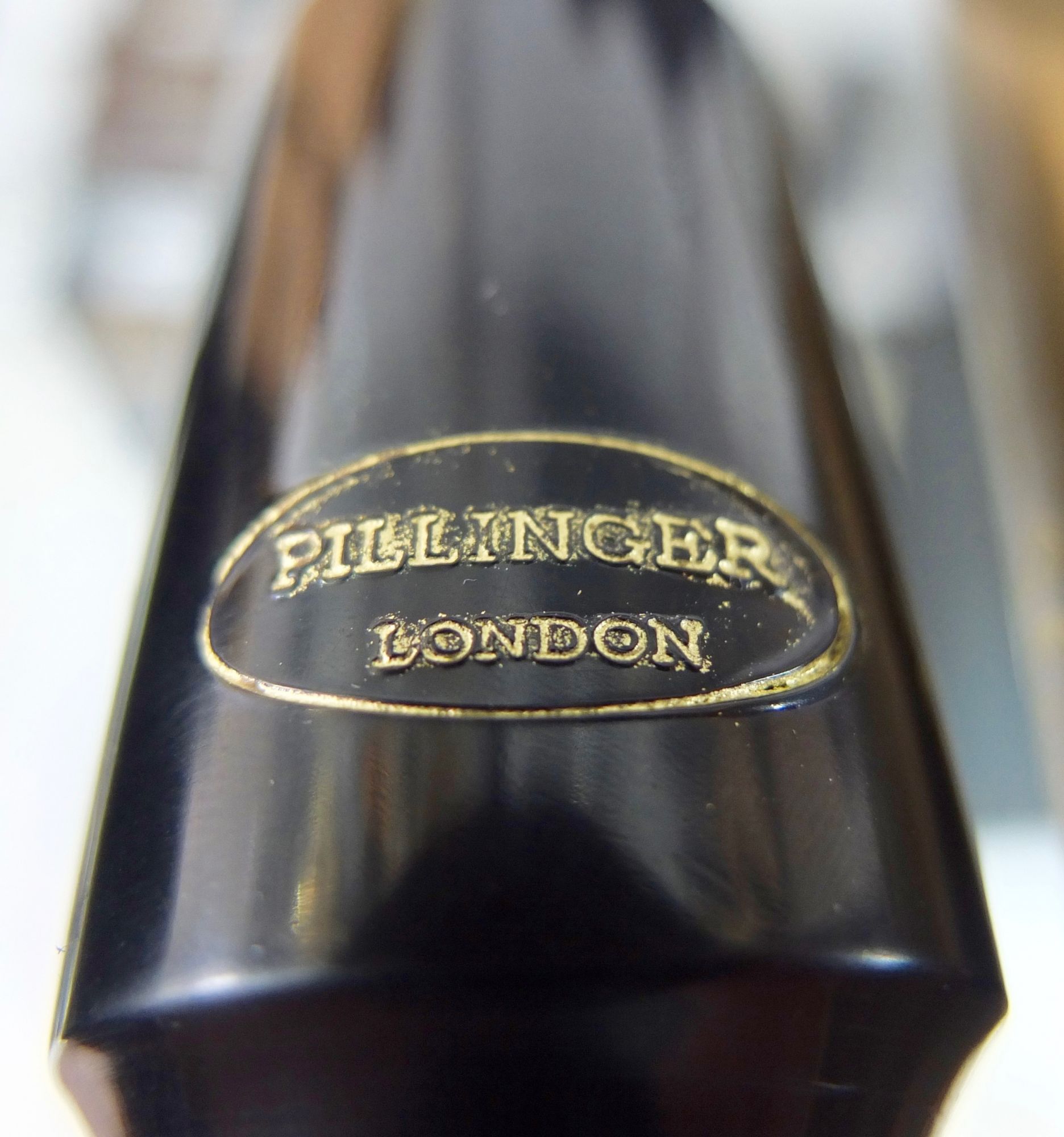 During a recent visit to London I stopped by Ed and his wife Suzanne's house for a spot of lunch (almost as tasty as the mouthpieces), to try out some items that we didn't stock at the time, and to chat to Ed about his long history in the trade. I was amazed at the depth of Ed's knowledge, from the composition of the materials he uses to the finest details in internal design and the impact these have on tone and response. His attention to detail is incredible, he even measured up two 'identical' mouthpieces (not his own) which I had with me and explained the microscopic differences within minutes.
If you're still reading this, you're probably the type of person/geek that's aware that any fool with a 3D scanner and CNC machine can churn out copies of classic saxophone mouthpiece designs, and they'll probably play fine, maybe even as well as the originals. But what they won't be able to do (which is where Ed's expertise comes in) is understand what makes those mouthpieces play the way they do and use this knowledge to tweak the designs in a way that brings out some of the best characteristics and improves on some of the worst! Ed isn't reinventing the wheel here, he's tweaking it….like an F1 team….and the results are phenomenal. If you have the pleasure of working your way through Ed's range of mouthpieces you'll find everything from warm fat hummers to borderline paint strippers and EVERYTHING in between, easily the widest range of high quality mouthpieces I've ever encountered from a single maker.
So if you're looking for a new mouthpiece and you've tried all the usual suspects but you still haven't found 'the one', I highly recommend you check out some Pillingers, not only are they exceptional quality but exceptional value for money! (around £200)…..ok where's the catch? I literally have no idea.
So just to make your search a little easier....
here's a brief run down of the Pillinger mouthpieces we stock and their most distinguishing features:
NYT
This is based on an old Otto Link design although the body is more slender and the beak is more 'duck billed'. This seems to be the most popular of Ed's selection in my experience, a great 'all rounder'. We've sold this mouthpiece to polar opposite players.
NYT Side Sig
This is a fatter version of the NYT, so a bit more like the dimensions of a slant signature link. If you've played some vintage links and you absolutely love them but hate the dont-make-em-like-they-used-to price tag, this may be your dream mouthpiece.
NYTM
Another version of the NYT, this one is described by Ed as having a 'warm and rounded' sound.The throat is smaller and the resulting tone is more focused than the standard NYT, but in essence it's another barrel chamber link style mouthpiece. I felt a bit brighter on this than the standard NYT, smaller throat - more pressure - brighter tone?...I have not idea, ask Ed!
SL
This is basically a copy of a 'horseshoe' shaped Selmer soloist chamber, and an exceptional one too. The bronzite 8 is particularly interesting, it's a huge mouthpiece and weighs an absolute ton! But having played both the ebonite and bronzite version there is no doubt that the latter is a lot more lively and resonant, and looks absolutely GORGEOUS!
HB
This has a very focused tone, a bit brighter than most mouthpieces in this range, but not obnoxious by any stretch of the imagination. If you're used to something like a Berg Larsen with a fairly high baffle but you want a more rounded 'classic vintage ebonite' sound but every ebonite piece you play sounds like you've shoved all your dirty socks down the bell of your sax…..this may facilitate the transition.
LA
The LA has a huge chamber which gives it an incredibly thick chocolatey sound, its inherently quite dark but easily brightened up when you give it some. The sub-tones that fall out of this thing are unreal. Think Dexter…meets Webster….meets Sunday pub lunch
NYA
This isn't just the alto version of the NYT, it's actually a vintage Meyer style chamber but with a slightly slimmer body, resulting in a clean (but not overly bright) direct sound. In the hands of a more skilled alto player than me this would probably make a nice snappy be-bop piece.

PJ
This is a great all rounder, a very wide tone with good tuning control in the upper register. Designed as a more Jazz orientated mouthpiece, if soprano isn't your principal instrument and you want a good mouthpiece to deal with the majority of scenarios, this is a great shout. Equally, if you're a die-hard sop lover then you'll probably like this too!
Not one of Ed's own designs but a guardala inspired collaboration commissioned (and played) by local sax hero Craig Crofton. Don't let the 9 tip opening put you off, this doesn't make it unmanageable, the high step baffle makes it a nimble piece, ludicrously agile up top! Listen to Craig playing it here on a lucious Conn 30M.
To ty any of the mouthpieces mentioned above simply visit our showroom: 19 Zetland Rd, Bristol, BS6 7AH or call us on 01179070493