JodyJazz HR* Custom Dark
A new JodyJazz hard rubber mouthpiece - Espina long time coming eh?!
After rave reviews at NAMM the year I was pretty excited to get a bunch of the new JodyJazz HR* Custom Dark Tenor Mouthpieces in to try, so excited that I felt compelled to wet my pen and take a ride on the blog flume.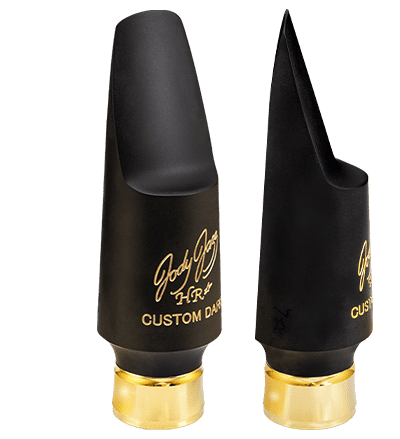 Without much hesitation I described this as my favourite mouthpiece that JodyJazz has ever produced (I stand by this), probably because it's their closest offering to the mouthpiece I currently play: an ebonite 'early Babbitt' Otto Link.
N.B: Early Babbitt is dirty street slang for Otto links made just after J.J.Babbitt bought the company and moved production from Florida to Elkhart.
A cynic might say "JodyJazz just put a fancy gold ring on their standard HR* mouthpiece and doubled the price" ….I would argue otherwise.
Firstly the HR* Custom Dark clearly has a lower shorter baffle which makes it a touch less punchy than the regular HR* which for me has always been a touch brighter than I'd like. Secondly they've scooped more material out of the sidewalls than the regular HR* making a larger more rounded chamber, thus darkening the sound. Jody Jazz describes this as putting it in 'the honey zone' …I'm not sure what that means, probably something to do with bears, maybe a hunting reference. Either way, it sounds sweet AF ….*penny drops*.
Cynical sax player: "Yeah great it's slightly different inside, but how on earth can that justify almost DOUBLING the price?!"
My initial concern precisely, but then I had a chat with Ben (who has an engineering degree and half a PhD in something boring) who explained some things to me about manufacturing processes, but got into way too much detail about it all and there was some music playing in the background and I was holding a clickey pen with four different colours, sooooo. The HR* Custom Dark is made on a CNC machine (or likely a few machines) from solid bar stock which is a longer, more labour intensive and more wasteful process than making mouthpieces in a mould. They're also made from a special type of 'Chedeville Rubber' which was redeveloped by the Chedeville mouthpiece company to emulate the classic rubber used in mouthpieces of the 20s and 30s. How's Jody got his hands on this swanky rubber you ask? ….he bought the Chedeville company about a year ago, well played Jody, well played indeed. Buying companies doesn't come cheap and neither does adding gold plated rings to mouthpiece shanks which has also been done on the HR* Custom Dark (there's a Beyonce quote in there somewhere).
One other noticeable difference in the new HR* Custom Dark is the thickness of the beak material. I don't think JodyJazz actually publicise this fact, but the beak is about 1mm thinner (very crude measuring). I think one of, if not the biggest difference between current Otto Links and their more valuable predecessors is the fact the old ones have much thinner beaks, made quite noticeable by the sudden 'beak drop' you find on the EBs, and we've learnt from conversations with the ever enlightening Ed Pillinger that a thinner beak makes a darker sound (I'm pretty sure that's what he said). The only downside to the slender beak is that the tip is razor thin and might not withstand direct contact with a hard floor should you be clumsy enough, but the flip side is that the really skinny tip is super agile and feels like a true precision tool.
Cynical sax player who's not quite so cynical anymore: "Ok, so other than being really dark why is this mouthpiece so good?"
It's possibly the most free-blowing and responsive mouthpiece out there, I reckon you could probably play one two sizes bigger than usual on your regular strength reed and not really notice the difference, it's insanely efficient. My guess would be that the responsiveness is due to the super thin beak and maybe the fancy Chedville rubber and it's probably so free blowing because of the cathedral-esque chamber, but what do I know….
Sax player sitting on the fence: "Yeah but how does it compare to the JodyJazz GIANT that Garzone plays?"
Well, completely different. The GIANT has some real Coltrane-esque edge which you usually only find with metal mouthpieces (Yeah I know the GIANT is made of Aluminium…but you know what I mean), whereas the HR* Dark Custom had very little 'edge' just buttery smooth darkness which seems suspiciously well behaved in all registers, I mean it cuts if you give it the beans like most dark pieces but you won't find it delivering many unintentional squeaks and chirps. It's worth mentioning however that after playing them side by side it became obvious that the GIANT is a lot more powerful and has a lot more volume to give than the HR* and HR* Custom Dark.
So if you like large chambers but don't have three lungs, try the HR* Custom Dark. If you love the warm otto link ebonite sound but feel like you have a shoe in your mouth when you play them, try the HR* Custom Dark. If you loved the regular HR* but thought it was a touch on the bright side, try the HR* Custom Dark. If you've paid off your mortgage, your kids have already left home but you've promised your significant other that you won't buy any more sax stuff….try spending some quality time with them, maybe go away for a few days and focus on their needs for a change. The Cotswolds is a lovely place to visit this time of year, and the Westonbirt Arboretum offers some of the most scenic walks in Tetbury all year round.
You: "I hate trees, where the hell can I get one of these mouthpieces"
Me: Right here buddy…..right here