To lacquer or not to lacquer?
So a few weeks ago on Saturday as we were closing up the shop, Tom and I were in the enviable position of not having any gigs to run off and play at, plus a hankering to test out some equipment.
We had just received in store an unlacquered Yanagisawa TWO20 tenor saxophone for one of our customers and we also had a brand new lacquered TWO20 hanging on the wall so we thought, now is the time to definitively work out...
Is there really any difference in tone between lacquered and unlacquered Saxophones?
As well as having a lacquered and unlacquered TWO20 in (which covers one of the best and more expensive saxophones available on the market), we also had an unlacquered and lacquered Zetland tenor saxophone which competes as the entry level tenor sax.
As we got down to the play testing one thing became apparent very quickly. It was an instantly biased and unfair test because we both approached playing the instruments in a way that we thought in our heads they should sound. As soon as we got them in our hands we played the unlacquered instruments with as warm and as vintage a sound as we could muster, and when we picked up the lacquered saxophones we played them as brightly and zingy as we could.
There was only one thing for it… blindfolds!!

(Don't worry no saxophones were harmed in the making of this blog)
As soon as we were truly unaware of which instrument we were playing/listening to, things became more interesting.
In summary I would say that we both thought the unlacquered saxophones had what can only be described as a slightly wider sound than the lacquered saxophones. They had slightly more highs and slightly more lows. I wouldn't say the sound was brighter or darker just a bit thicker.
Now the fine print to this is that in blind testing we certainly did not pick the lacquered saxophones from the unlacquered ones with 100% accuracy. And although we both thought there was a difference I personally wouldn't put that difference at higher than 5%. The interesting thing about this is when you compare the high end professional saxophones with the entry level saxophones. At the very high end, manufacturers like Yanagisawa are renowned for their consistency and accuracy, and that is one of the many things you're paying for when you buy a professional level instrument. At the entry level (as represented in this case by the Zetland tenor sax) there are wider manufacturing tolerances and you might expect to find a 5% variability from instrument to instrument anyway, regardless of lacquer or finish options.
Certainly my advice on this topic would be to treat the choice to have a lacquered or unlacquered saxophone more as an aesthetic choice rather than a tonal choice. If you like the look of a new shiny saxophone, and you want to keep your saxophone in as good shape as possible for as long as you can I would highly recommend purchasing a lacquered saxophone. If you like the look of a vintage saxophone and want something that looks like it's been around the block a few times and has a few stories to tell, then unlacquered all the way. If you are completely on the fence and don't care abut looks at all but are a complete tone junky then my recommendation would be to go unlacquered.
Now if you've got this far and want to know more lets get a little deeper! In the interest of fairness I would like to point out that not everyone agrees that lacquer or even the material an instrument is made from has a great (if any effect) on sound. Check out Stephen Howards view here: http://www.shwoodwind.co.uk/misc/myths_and_materials.htm
Stephen is an incredibly experienced and knowledgeable repairer of brass and woodwind instruments and is the author of the Haynes Saxophone manual. If he thinks it's all a load of old tosh then surely it would be bold of me to disagree. In fact I don't completely disagree. As I stated above I think the difference is smaller than some may expect or have been lead to expect by a manufacturers sales blurb (which may be the biggest problem, at some point we will have to write a blog on all the ridiculous and meaningless words that are used to describe tone), and may or may not be a smaller difference than the natural variation from one instrument to the next within the manufacturing process. However there are some things I would disagree on based on my personal experiences of playing and I'll explain them now.
Stephen points out that the theory behind what is impacting the sound is resonance. How free is the body of the saxophone to resonate? He states that when you play your saxophone you are touching it with your hands which will dampen any so called resonance, and if you don't believe him, why not try letting go of the saxophone with one hand and seeing if it effects the tone. The obvious conclusion therefore is that your saxophone is not that sensitive to restrictions of resonance and therefore material and finish options are of no impact.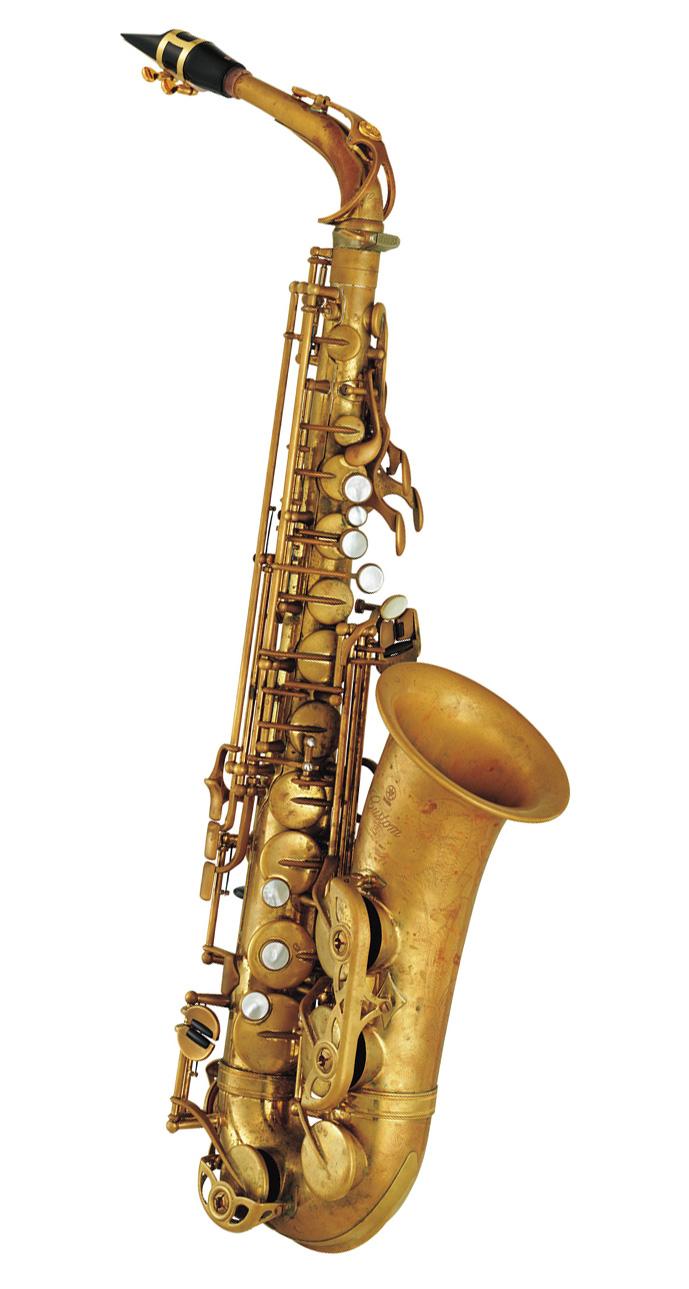 Now here is where I disagree with this argument. I started playing bass saxophone a few years ago, and for the first 12 months of playing it I'm ashamed to say my back was just not strong enough to take the whole weight of that beast for a 90 minute gig. So what I did was make myself a platform (from a sawn off microphone stand and a piece of rubber matting) that I could rest the bottom bow of my saxophone on whilst I was playing and that would take the bulk of the weight. I got used to this and I got used to the tone of my bass saxophone whilst playing it like this, but I always felt like I needed to man up (sorry that's horribly sexist but you get what I mean) and start to play the bass saxophone without resting the bottom of it on anything. As soon as I did this the sound of the horn completely changed. It sounded so much fuller and, for want of a better word, more resonant! So I do very strongly believe that restricting the body of an instrument to vibrate will deaden the sound of that instrument. The question then is how much can a layer of lacquer that is a fraction of a millimetre thick really deaden the sound? Well in my example I was resting an instrument that weighs about 10 kilograms on a rubber platform, which understandably would have quite a large impact on its ability to vibrate. The lacquer on a saxophone is obviously going to have a much smaller impact than this, however what you have to think about is the totality of coverage. On my bass saxophone I was applying dampening to one single point on the bottom of the saxophone. For a saxophone that is lacquered, the lacquer covers 100% of the instrument, so we are comparing a very large amount of dampening on a very small surface area to a tiny amount of dampening over a very large amount of surface area.
So take from that what you will. The impact of lacquer and surface finish on the tone of a musical instrument is a controversial topic. I'm sure lots of people will disagree with this from both sides of the argument but really what's most important is how YOU feel with YOUR instrument. Playing any musical instrument is such a personal experience and it's best not to buy one based on what someone else has told you is good or not. Get yourself along to somewhere that you can try some things out. Come and visit us in our Bristol Showroom and try some stuff out, and if you like it go with it and don't let anyone (including us) tell you otherwise.
To browse our range of saxophones & mouthpieces, come and visit our showroom at 19 Zetland Rd, Brisol, BS6 7AH or call us on 0117 907 0493